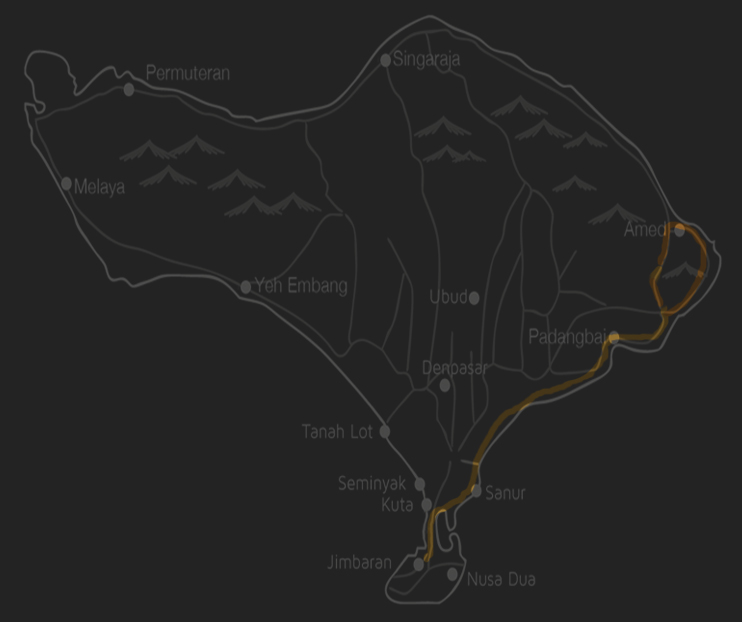 Drive the new Eastern highway all the way to the Bat cave, Goa Lawah– for the Balinese an important place of worship and for foreign visitors a natural wonder.
Continue along the coast and reach Tirtha Gangga, the beautiful waterpalace with its lotus flowers, fountains and fishponds. It was built by a king of Karangasam, Balis most easterly kingdom in the 1940s.
Drive on through spectacular countryside to the fishing village of Amed.
Have lunch right on the water and swim or snorkel around a Japanese shipwreck, overgrown with coral and full of tropical fish.
Afterwards take Bali's most eastern and road with incredible 180 degree views of the sea- you might be the only car on the road it's so remote.
In the afternoon we stop at a white sand beach with its turquoise blue water- a real sensation. Swim, have a beer or a coconut and relax for an hour.
On the way home we take you to yet another beach-this time with black sand-take pictures and enjoy the fascinating seascape.
Departure: private tour every day
Departure times:
Kuta, Legia, Seminyak :7 15 AM
Nusa Dua, Jimbaran, Tanjung: 7 Am
Sanur, Ubud: 7 30 AM
Price: U$ 80 P Person, children under 12 yrs with 2 adults half price. Minimum 2 Adults
SPECIAL PRICE FOR OUR AUSTRALIAN CUSTOMERS 90AU(instead of 115 AUD=80USD)
Included:
Tour in VW 181 with driver and English speaking guide.
All entrance fees and donations
Beachchairs with umbrella at white sand beach
Lunch at local restaurant
Insurance
Not included:
Snorkel Rental, can be rented at snorkel site
What to bring:
Sun protection
towel
bathing suites.